Master Chef Dale Miller Is Grand Marshal at CIA Commencement
Hyde Park, NY – Certified Master Chef Dale Miller, president of the Clifton Park-based Master Chef Consulting Group, served as grand marshal at The Culinary Institute of America (CIA) baccalaureate commencement exercises on Thursday, January 16.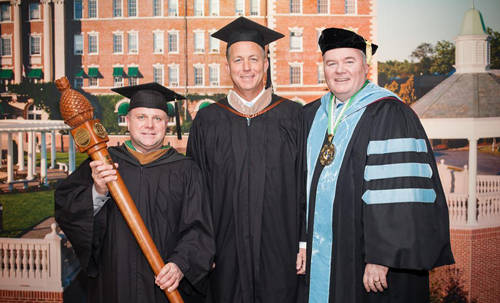 A 1979 graduate of the CIA, Miller was given the honor to lead the procession of college faculty and administrators, followed by 153 graduates earning their four-year management degrees in culinary arts and baking and pastry arts.
Miller has been the executive chef at such area landmark restaurants as Jack's Oyster House, The Inn at Erlowest, and Sperry's. He is one of 68 Certified Master Chefs in the United States, the highest level of certification that can be achieved through the American Culinary Federation (ACF). He is a member of the American Academy of Chefs, the ACF's honor society, and received the organization's national professionalism award in 2009.
The keynote speaker for the commencement was Michael Hickey, executive vice president of Ecolab, a company that provides water, hygiene, and energy technologies for restaurants, industrial settings, and institutions such as colleges and hospitals.
"Globalization and the pace of change are happening faster than ever before," Hickey advised graduates. "No matter what happens in the industry, the fundamentals you learned at the CIA will be with you forever. The fundamentals of hard work will never change, and those who are most successful never forget that customers are the reason we're here."
The ceremony was held at the Mid-Hudson Civic Center in Poughkeepsie, NY. With construction of the CIA's Marriott Pavilion nearing completion, the next baccalaureate commencement, in May, will be held on the college's Hyde Park campus in the building's 800-seat theater.
Founded in 1946, The Culinary Institute of America is an independent, not-for-profit college offering associate and bachelor's degrees with majors in culinary arts, baking and pastry arts, and culinary science, as well as certificate programs in culinary arts and wine and beverage studies. As the world's premier culinary college, the CIA provides thought leadership in the areas of health & wellness, sustainability, and world cuisines & cultures through research and conferences. The CIA has a network of 46,000 alumni that includes industry leaders such as Grant Achatz, Anthony Bourdain, Roy Choi, Cat Cora, Dan Coudreaut, Steve Ells, Johnny Iuzzini, Charlie Palmer, and Roy Yamaguchi. The CIA also offers courses for professionals and enthusiasts, as well as consulting services in support of innovation for the foodservice and hospitality industry. The college has campuses in Hyde Park, NY; St. Helena, CA; San Antonio, TX; and Singapore. For more information, visit www.ciachef.edu.