Master Chef Dale Miller Announced as COVALEY's Brand Ambassador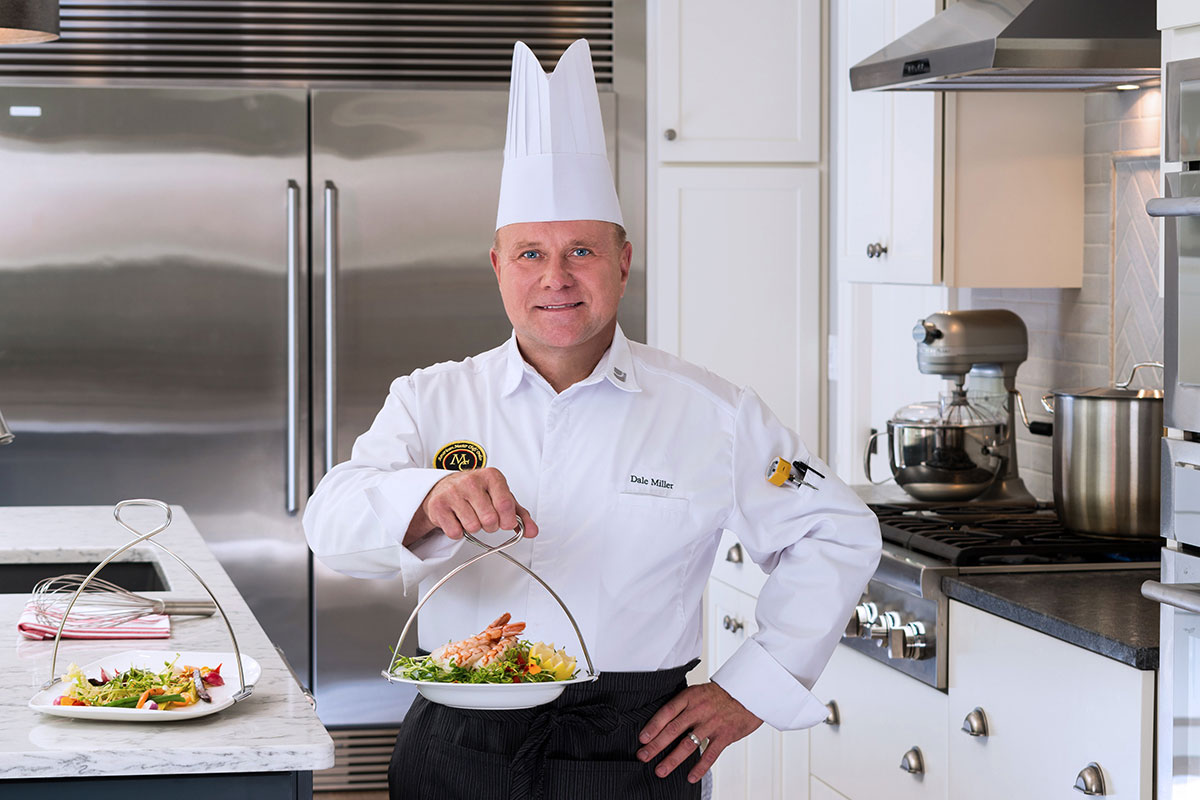 COVALEY Launches New Website with Curated Food Blog
ROCHESTER, NY – Plate Poignee announces Certified Master Chef Dale Miller, AAC, as their Brand Ambassador to represent their unique product line of COVALEY serving accessories to consumers and commercial hospitality and foodservice entities.
Chef Miller is one of only 68 certified master chefs in the United States and brings with him years of extensive training and experience as a chef, restaurateur, consultant, and culinary professional.
Originally crafted from a French design, the COVALEY product line offers a selection of elegant, versatile, and practical serveware accessories that elevate the art of plating, serving, and sharing. Its unique design provides convenient and hands-free no-tip serving, allows hot plates to be carried and passed easily, and fits multiple size and shape dishware for home entertaining.
"I am honored to represent this innovative culinary tool," said Chef Dale Miller. "I look forward to sharing this new product with friends and family as well as promoting its presentation and efficiency to the foodservice and hospitality industry. It's a great solution for today's environment that calls for masks and hands-free serving."
The plate handles are engineered from culinary-grade stainless steel, can lift up to 150 pounds, are dishwasher safe, and made in the USA.
"We are extremely delighted and proud to have Chef Miller join our team. His creativity and inspiration are central to our new marketing initiatives and the launch of our newly redesigned website," said Sally Humphrey, President of Plate Poignee, LLC.
The new COVALEY website provides information and helpful tips on ways to use the serving utensil, ordering options, and kitchen tips and recipes provided by Chef Miller.
About Chef Dale Miller, CMC, AAC
Prior to devoting full time to his consultancy, Certified Master Chef Dale Miller was executive chef/consultant of Sperry's Restaurant Group, LLC. In 2012 he was appointed to the Board of Directors of Maple Leaf Farms, a corporation that has become a global brand. Chef Miller is a Fellow of The Culinary Institute of America and is currently the Past Chair of the Alumni Council Board. He is an active member of the American Culinary Federation and its Honor Society, the American Academy of Chefs.
Chef Miller is the recipient of the prestigious ACF National Chefs Professionalism Award and a lifetime member of the elite Honorable Society of the Golden Toque, the highest acclaimed recognition a chef can receive in America.
About Plate Poignee LLC
Two French exchange students shared a prototype of a serving tool their grandfather had developed to help easily transport and share the farm and cheese products he brought back to Paris from farms in Normandy. The company began manufacturing the COVALEY serving accessory product line in 2019.
Plate Poignee LLC (which translates to "plate handle") is headquartered in Rochester, NY, and the COVALEY product line is manufactured entirely in New York State.
For more information, visit www.covaley.com.