Meet Master Chef Dale Miller
Chef Dale Miller, CMC, WGMC, AAC, is known for his unique concepts, solutions, and ideations as well as his thorough understanding of American and international cuisine and food dynamics. Cornerstone to his education and experience is an integrity and accountability that fosters individual and team success for his clients.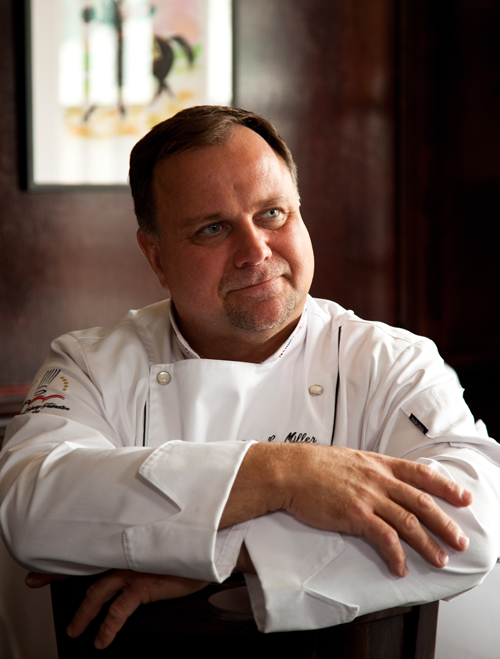 One of only 68 Certified Master Chefs in the US and less than 700 (WACS) Global Master Chefs in the world, Chef Miller is recognized in the upstate New York region as "Dean of Area Chefs". He has been instrumental in the turnaround of several of the area's landmark restaurants, including Jack's Oyster House, The Inn at Erlowest, and Sperry's Restaurant.
Chef Miller is proud to be a Fellow of The Culinary Institute of America's Alumni Board, as well as a member of the American Culinary Federation and its Honor Society, the American Academy of Chefs. Chef Miller has also been inducted as a lifetime member of the elite Honorable Scoeity of the Golden Toque, the highest acclaimed recognition a chef can receive in America. See more awards and achievements here.
President, Master Chef Consulting Group, LLC
Clifton Park, NY

Business built to assist in the development and success of new and creative culinary concepts and solutions for food-related businesses including:
Product Testing and Assessment
Hands-On Training (Front and Back of House)
Restaurant Turnarounds and Start-Ups
Menu Concept and Development
New Product Presentations and Demonstrations
Partial client list includes Maple Leaf Farms, Cabot Cheese, Sterling-Rice Group, Red Lobster/Darden Group, Olive Garden, and McDonald's
Executive Chef/Consultant, Sperry's Restaurant
Saratoga Springs, NY

Assisted new owners with relaunch of historic 180-seat high-volume restaurant by providing oversight of dining rooms, garden patio, and kitchen design and restoration, menu development, ambience, and philosophy. Achieved projected ninth-year revenue in first year.
Executive Chef/Managing Partner, Dale Miller Restaurant
Albany, NY
Responsible for interior design from concept through construction to opening for the kitchen, dining, banquet, and take-out areas. This facility featured a 60-seat fine dining restaurant, 40-seat bar, 10,000-square-foot penthouse banquet and event facility, outdoor garden terrace, and gourmet grab-and-go kiosk. Hired, trained, and supervised staff of 60.
Executive Chef/General Manager, The Inn at Erlowest
Lake George, NY
Retained by owners to bring historic inn to a Relais & Chateaux designation with interior and amenity upgrades, unique menu and food presentation, and new service training manual. Created, standardized, and instituted new policies, procedures, platforms, and strategies to help rebrand, market, and promote the Inn.
Executive Chef/Managing Partner, Jack's Oyster House
Albany, NY
Reinvented and restructured all facets of foodservice for 93-year-old high-volume landmark restaurant and banquet facility. Redeveloped 50-year-old menu to attract new clientele while maintaining loyal customer base. Coordinated all phases of update and re-design of kitchen, main dining room, bar, and two banquet rooms while working closely with owner on front-of-house operations. Produced 35% increase in sales within first nine months and continued growth from $1.7 million to $3.4 million in three years.
Owner/Chef de Cuisine, Stone Ends Restaurant
Albany, NY
Owned and operated this critically acclaimed premier restaurant recognized nationally for its "Progressive American" cuisine with an international influence.
"Dale is a bonafide leader in every possible way - philanthropist, trusted advisor, entrepreneur - a true success story for the CIA.
He is a treasure trove of wisdom and experience and is a model advocate for his alma mater.
I look foward to our next collaboration."
Tim Ryan
President, Culinary Institute of America